What The ….?
Agrapha Productions is the California-based company of Visual Effects Supervisor/Artist Johnathan R. Banta.
Agrapha Productions officially opened its doors in 1992 — working with several clients over the years,  the scope of work spans television, feature film, IMAX (3D), stereo conversion, stereo filmmaking, and DVD menus.
Johnathan is one of the early pioneers of stereo conversion, developing much of the pipeline and methods, and trained many of the principal artists in the field today.  He has developed many stereo visual effects methods, and is partnered with 3DCG: The Stereo Consulting Group.  He is also a VES award winning, and Emmy nominated artist.
Johnathan is a Visual Effects supervisor, VFX artist, author, and a BOSS Film Studios alumnus. His awards include: Emmy nominee for JERICHO, J.J. Abrams FRINGE, J.J. Abrams REVOLUTION, and V: THE SERIES.  He is a VES Award winner for MAGNIFICENT DESOLATION 3D, and ROVING MARS and VES and Emmy Nominee for V: THE SERIES. His work appears on Award winning menu design for STAR WARS, TITANIC, and T2 DVD titles. He has many feature film credits in visual effects. Johnathan designs stereo conversion pipeline and techniques, he implemented them at Sassoon Film Design, and Zoic Studios,  and Stereo Pipeline Supervisor for Relativity Media's IMMORTALS 3D.
Johnathan is the developer of the AG_Shaders for Electric Image.
Johnathan has also developed many digital makeup effects methods, for a variety of extended clients including: J.J. Abrams, Stephen Sommers, and Steven Spielberg.  He was one of the founders, and supervisors at MastersFX Makeup Division, form 2012-2015 — creating many nw methods in digital makeup, and garnering a VES Award nomination for HEMLOCK GROVE.  As Johnathan Banta, and as Agrapha Productions, he is ready to bring a wealth of experience, and innovation to any project.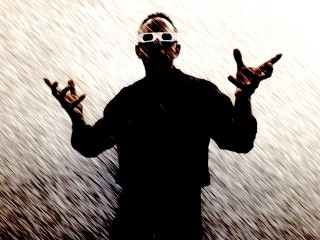 There is a web design company out of Canada that uses the name as well.  This AGRAPHA Productions pre-dates their inception.  DO NOT BE FOOLED!