Kerry O'Quinn's Penultimate Magazine Online Library.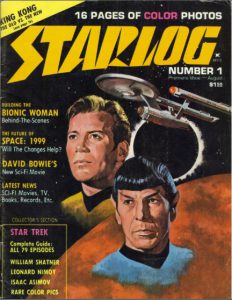 In several boxes in my garage sit almost every copy of Starlog Magazine up to issue 100.  They are in various conditions, some tattered, some torn, all well read.  They are an archive library.  For those who did not live in Los Angeles, and did not discover the mail order Cinefex (which was actually advertised in Starlog pages), there was Fantastic Films, Famous Monsters, Cinefantastique, and Starlog on store shelves.  I'd beg my parents, deliver newspapers, and mow lawns to buy my copy monthly.
Starlog was one of the genre touchstones.  It introduced me to many of the VFX artists of the day, as well as inform me on technique with behind the scenes VFX articles.  Later, these articles by David Hutchinson, and John Clayton were coalesced from this magazine into photo guidebooks on VFX — still a cherished item to this day.  I used to call these authors often to discuss the industry, and find ways to contact artists working in the business.  Without it, many VFX careers like mine may not have been.
The magazines are available in PDF, EPUB, and Kindle versions.  You can also read it online.  If you read it when younger, enjoy.  If you never did … time to catch up!
AG
*Hat Tip Jason Hill for finding this.